Your Special Tea Party with A Twist!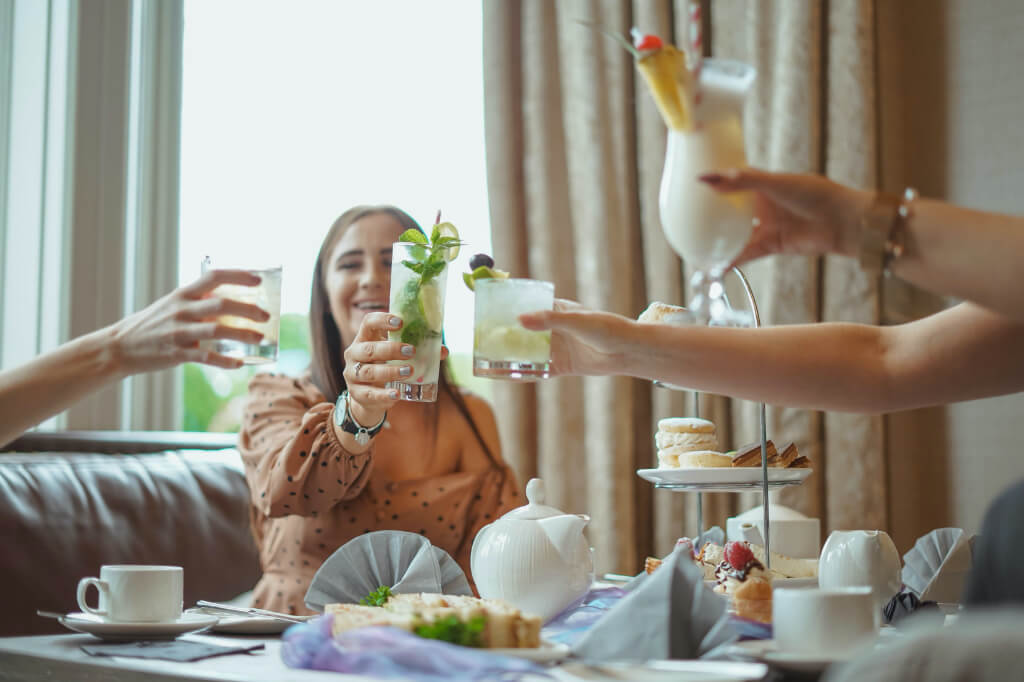 This is not just any old afternoon tea party this is a fantastic girly tea party with a twist at the Palace! You can enjoy your fabulous Intoxicating Tea Party in the brand new Palace Lounges, Brasserie & Bar too!
You'll find your tea party dressed with lovely classic cake stands offering all sorts of delicious and delicate nibbles.
Your eyes will pop when they see dainty finger sandwiches, fresh scones with lashings of cream and jam and a fabulous selection of cakes and sweet bites to guarantee a super sugar hit!
But it doesn't stop there…your vintage tea pots will offer some extra delights filled with the very best of the Palace Cocktails & Mocktails for you to sip and enjoy in your classic china cups! Followed by very classy mini Vodka jellies.
You can book your your own Tea Party room and bring your own play list too!
Really make an afternoon of it and get glam'd up with the girls – there really is no better excuse for a bit of sparkle and bling than your intoxicating tea party!
It really is a fabulous afternoon treat – to book – please call Samantha on 01463 22 77 80 or email
Enjoy your Intoxicating Tea Party…
Selection of Sandwiches
Honey Roast Ham & Tomato
Smoked Salmon & Cream Cheese
Mature Cheddar and Pickle
Chicken & Basil Mayonnaise
***
Cream Scones
Cakes and Sweet Bites
Cocktail Filled Teapots
(Fabulous selection of Palace Cocktails & Mocktails)
Vodka Jellies
Only £29.95 per person.
Intoxicating Tea Party Reservations
Call us 01463 22 32 43 - Terms and Conditions are below.
Email Palace or message us.
Ask for prices to book your own tea party room and special extras too!
If you have any food allergy questions please let us know and we will do our very best to help you.
---
Intoxicating Tea Party Booking Terms & Conditions: We kindly ask that your party is ready to be seated at the time indicated in your booking confirmation. To allow for a smooth service please pass this to all your guests, food and beverage service will start when the whole party has arrived. We also ask you to please notify the hotel on 01463 223243 if you are delayed, or we may release the table 15 minutes after the reservation time. Full payment, final numbers and dietary requirements are due 7 days prior to arrival or if booked within 7 days this is required at time of booking. Cancellation for bookings are 7 days prior to arrival.