Welcome to the Brasserie Menu
Served in the Brasserie & Bar and Eight on the River Lounge from 12-9pm with Free Wi-Fi and picture perfect Castle & River Views. If you have any food allergy questions, please ask your server and they will do their very best to help you.
To Book – use the new Open Table booking engine, for parties of 6 or more please call us on 01463223243 or email Palace. If Open Table shows "full", call us to double check or to find an alternative time.
STARTERS
NACHOS £7
tortilla chips smothered in cheese, jalapenos, homemade salsa, sour cream and guacamole. Add Chilli £11 (gf). Add Cajun Chicken £11 (gf).
CULLEN SKINK £7.50
creamy smoked haddock & potato soup, charred bruschetta (gfa)
TODAYS SOUP £4.50
charred bruschetta & butter (gfa)
SOUTHERN FRIED CHICKEN BITES £6.50
crisp batter, chilli sauce,
green leaves
BUFFALO MOZZARELLA £4.50
cherry tomato, green pesto
& green leaves (v)(gf)
CLASSIC PRAWN COCKTAIL £9
Marie rose, baked granary,
& crisp leaves (gfa)
MOROCCAN KEFTA & ZAALOUK £7.50/ Main £13.50
Cous Cous, flat bread & crisp greens
CLASSIC FAVOURITES
BALMORAL CHICKEN £16
char grilled chicken with spicy haggis and a creamy peppercorn sauce (gfa)
NORTH SEA HADDOCK £15
a choice of breaded, battered or grilled haddock with hand cut chips and garden or mushy peas (gfa)
BREADED SCAMPI £14
with homemade tartare sauce, hand cut chips and garden or mushy peas
CHICKEN TIKKA £14.50
with basmati rice, naan and poppadum's (gf)
LAMB MADRAS £16.50
with basmati rice, naan and poppadum's (gf)
HOUSE GAMMON STEAK £14
fried eggs, hand cut chips, dressed salad
BEEF STEAK PIE £15
seasonal vegetables and new potatoes (gfa)
LAMB ROGAN JOSH £18
slow cooked lamb in a spiced tomato sauce with rice and mini poppadum's (gf)
VEGETABLE & SOYA CHILLI £14
vegetable and soya mince chilli with rice & nachos (gf) (v)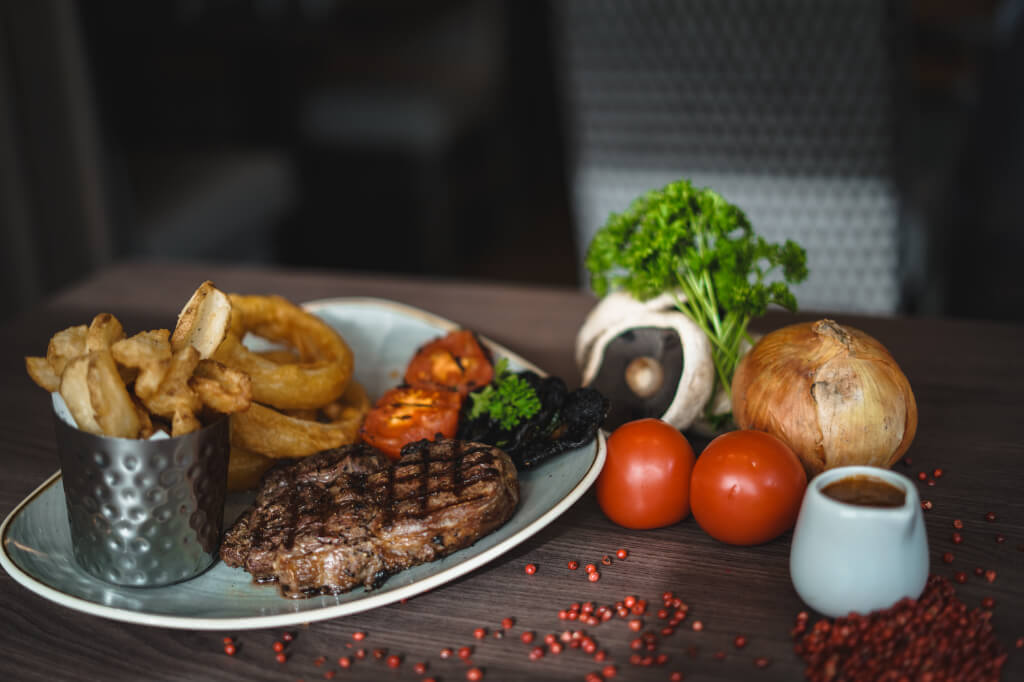 GRILL
RIB EYE STEAK £24
matured Scottish Beef
10oz char-grilled steak (gfa) Peppercorn sauce £3
Garlic & Herb butter £3
SIGNATURE BURGER £13.50
Brioche Bun Mature cheddar, lettuce, tomato, onion ring, chipotle mayo, Coleslaw, Hand Cut Chips.
Add-ons £2 each
Macaroni, BBQ Pulled Pork, Haggis & Pepper Sauce, Bacon or Egg
STEAK & CHEESE BURGER £17
pan deared Scottish Beef Steak, onions, mushrooms, peppers, Cheddar, Coleslaw & Hand Cut Chips
SOUTHERN FRIED CHICKEN BURGER £15
crispy battered chicken, cheddar, bacon, chipotle mayo a brioche bun with BBQ sauce & Hand Cut Chips
PASTA & SALADS
THREE CHEESE MACARONI £12
dressed salad, garlic ciabatta (v)
SPAGETTI BOLOGNAISE £13
Parmesan Shavings, Garlic Ciabatta
CLASSIC LASAGNE £13
Dressed Salad, Garlic Ciabatta
CLASSIC CAESAR SALAD £11.50
romaine lettuce, croutons, parmesan, anchovies & creamy dressing (gfa)
Add grilled chicken £4 Add smoked salmon £5
PIZZA
THREE CHEESE MARGARITTA £13 (v)
MEAT FEAST £17
Pepperoni, Salami, Ham, Cajun Chicken, Smoked Sausage
CHICKEN FAJITA £16
Spiced Chicken Red Onion, Tomato, Red Pepper
SPICY BEEF £16
Spiced Mince, red onion, Peppers
CLASSIC VEGETABLE £15 (v)
Celery, Onions, Peppers, Tomatoes
SIDES
Skinny Fries £3
Hand Cut Chips £4
Hand Battered Onion Rings £3 (v)
Homemade Coleslaw £3 (gf)
Dressed Salad £3 (gf)
Cheesy Garlic Bread £3 (v)
Freshly Baked Roll £2 (v)
Gravy £3
DIRTY FRIES – £5
Cheddar & Jalapeño
Salsa & Cheddar
Cajun Spiced Chicken, Cheddar &
Garlic Mayo
Bacon & BBQ Sauce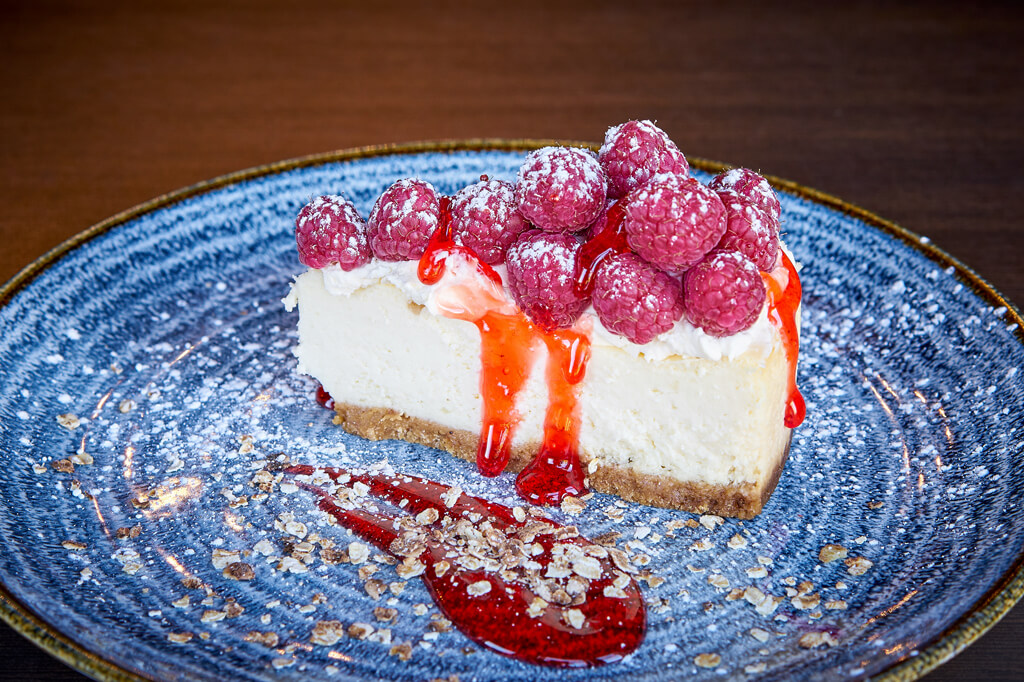 DESSERTS
CHOCOLATE & CARAMEL SUNDAE £7
Chocolate and vanilla ice cream with caramel sauce and caramel chunks
HOME MADE STICKY TOFFEE PUDDING £7
Warm toffee sponge pudding, toffee sauce and ice cream
CRANACHAN £6.50
Toasted oats, raspberries, whisky, cream and honey
The symbols above are to help you when ordering (gf) – denotes a gluten free version, gfa) denotes gluten free alternative available so please ask your server prior to placing your order and (v) – denotes a vegetarian option.
Book Online Now via Open Table