The stunning new Leisure Club & Spa Refurbishment is complete & Open! The perfect place for your Highland escape.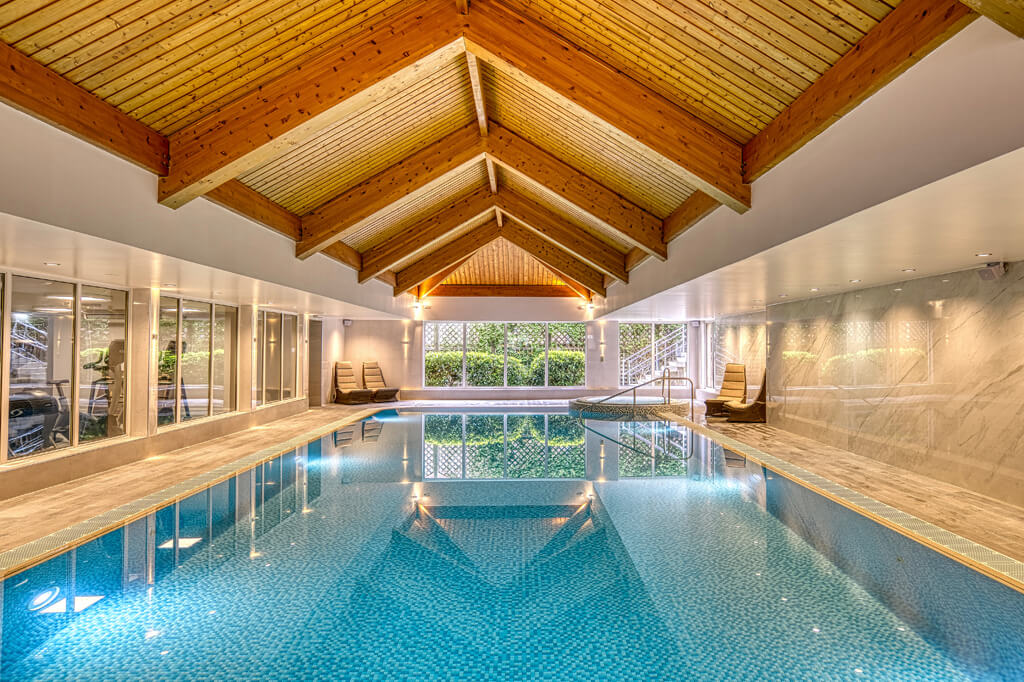 We want to share the completion of the stunning new leisure club, spa & gym. The Palace is a family run #Inverness hotel and in the depths of winter we started this extensive refurbishment programme. This time we focused on creating 40 brand new sophisticated bedrooms and a stunning new Leisure Club. Both fabulous projects are now ready, we recently published a blog on the gorgeous new bedrooms, this time we are very excited to share all the Stunning Leisure Club details!
Here at the Palace, we want to offer you not only a fabulous welcome, friendly and attentive service but somewhere a little luxurious; we hope you like the Leisure Club results!
Refurbished Leisure Club
Working with Jane Nelson Interiors and our fabulous local trades we have completed this stunning refurbishment of the Leisure Club. Jane and her team provided innovative ideas alongside input from the hotel team to create our Leisure Club & Spa evolution – they provided the support to help us create our vision. We are delighted to announce that this essential part of the hotel experience has undergone a complete transformation.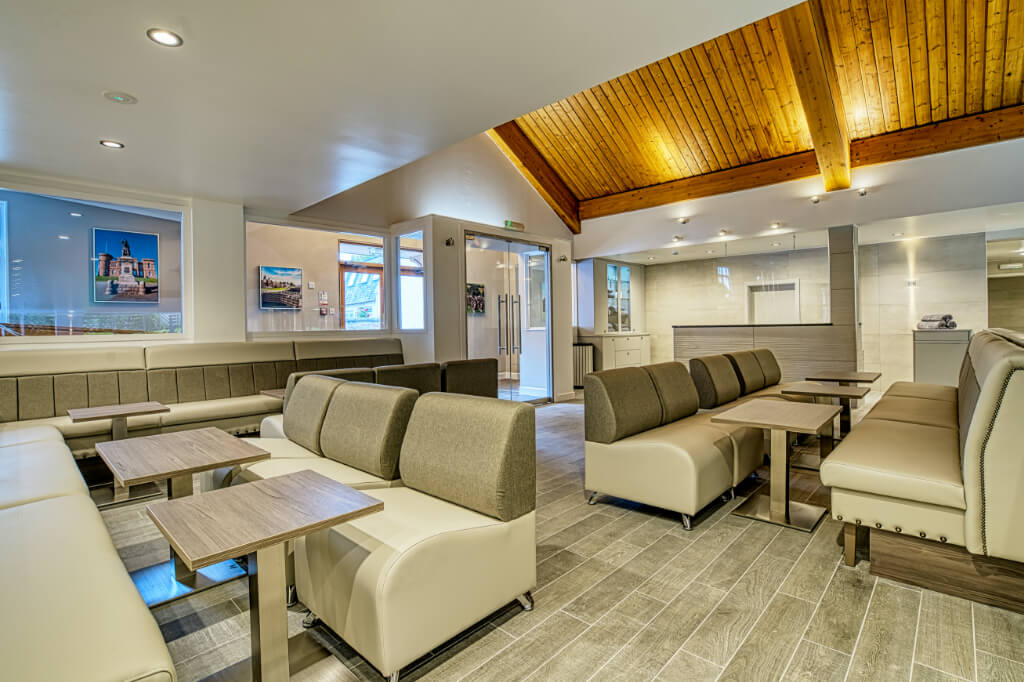 The Interior Design & Styling
Jane and Graham have created an elegant, contemporary space. Guests can enjoy textured materials from walls to tiles, elegantly simple fabrics and timeless furniture pieces by Alexander Rose added a luxurious touch to the poolside.
Lots of little touches have been added to the design scheme, custom framed mirrors from Indigo Art, gorgeous solid surfaces by Stone Source and perfectly padded bench seating and gorgeous coffee tables bring a feel of intimacy and relaxation. Jane and our team have been hard at work to create the perfect space to relax and unwind.
Enter The Club
The Leisure Club and Spa are popular with guests and local members. Many of our guests return every year and we hope they will be wowed with the new Leisure Club reception. As you enter the club, all the windows have been replaced to allow natural light to flood the space. The main reception has a beautiful new desk complete with solid granite surface, new lighting and fantastic new elegant storage; to accommodate even more towels for hotel guests! This area is a soft neutral area, with gorgeous Urban Caliza – Porcelanosa textured tiles, it really sets the tone for your relaxing experience. Our team are eager to welcome you back and can't wait to show off all the new additions!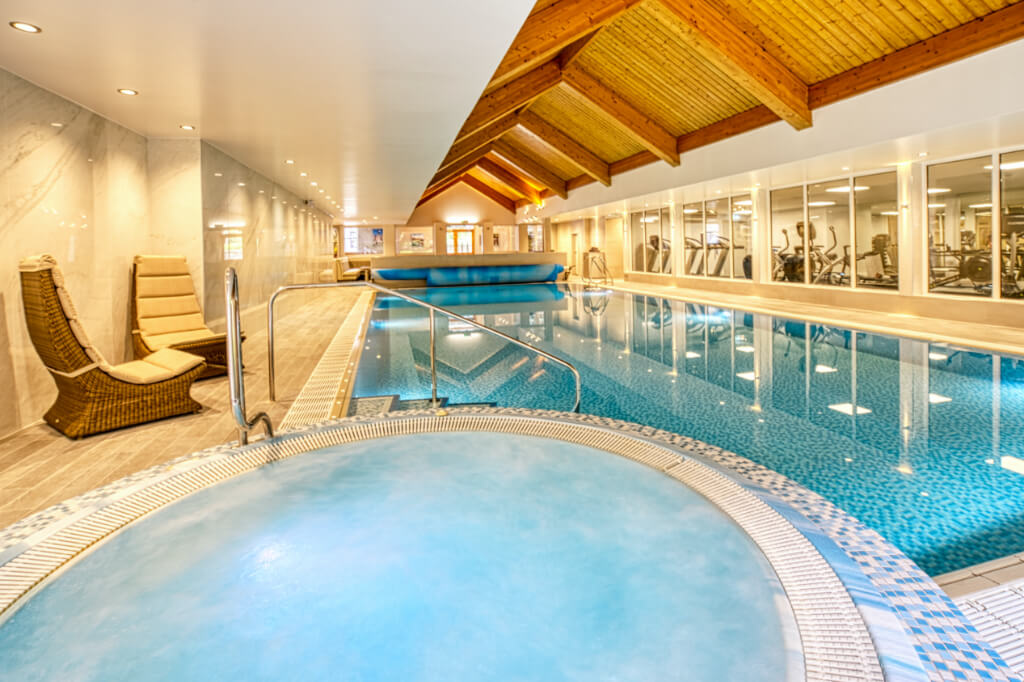 Lounging at the Club
The new leisure club offers a combination of social spaces ranging from individual luxury Alexander Rose padded cocoon chairs by the pool. Ideal for some quiet time alone to the new lounge area opposite reception. This lounging space, incorporates uplifting whites, creams and greys, with two tone comfy chairs and fabulous padded benches, plus lots of perfectly proportioned coffee tables; the ideal space for catching up with friends.
The New Nail & Beauty Bar
The Nail and Beauty Bar design engages you a visual and physical level, with tactile tile elements on the floor and walls, exceptional quality Porcelanosa products. Combined with elements of polished surfaces, soft metallic bespoke mirrors and comfy seats for you to relax in! We have partnered with Sleeping Beauty Spa and their excellent team of Elemis professionals, they offer an extensive range of exclusive Spa packages. These include Elemis Face & Body Treatments, Spa Packages, Massage, Eyes & Lashes, Waxing, Threading, Hands & Feet, Facials & The Perfume Studio. Enjoy your most relaxing and therapeutic treatments in this stunning new space. Finally the treatment rooms have also been freshly redecorated and are sparkling!
---
The NEW Leisure Club Experience
The new Leisure Club is open. The interior design team and the hotel have pooled their combined knowledge to transform the original space and offer you a fabulous elegant, luxurious space to refresh, relax and unwind!
What's New
NEW decoration Poolside, Collingwood Lighting created a scheme that has transformed the space, the lights are bright, refreshing and compliment the sparkling water of the pool. The walls of the poolside have a touch of glamour with lush white polished floor to ceiling slabs of tile. The effect of these massive slabs is simply stunning, these statement pieces add a luxury feel!
NEW larger Steam Room, seats 8 people comfortably, a beautifully tiled space, it truly is a place to relax and let the steam envelop you!
NEW larger contemporary Sauna, with three tiered seating for 8, the sauna has both individual seat lighting and ceiling lighting, with three different mood options! It's the perfect place to let go of the days stresses!
NEW DRENCH Power Showers have been added to the Leisure Club, these invigorating showers have been placed just outside the Steam Room and Sauna for guests to cool down.
The GYM has been completely redecorated, with contemporary and stylish flooring; plus the new air conditioning system extends to the GYM. A great place to work out on all the Cybex equipment!
Collingwood Lighting have overhauled the lighting system to craft a fabulous new concept, ensuring the practical areas are not only brightly lit but uplifting. Plus they have added mood lighting to the Sauna and Steam room to reflect those relaxing and rejuvenating experiences.
NEW Gorgeous changing rooms. These are a highlight of the overall design, a unique concept of glass cubicles and lockers all supplied by Prospec! These are contemporary, modern and sophisticated in a soothing palette of Soft White and Grey. These modern glass spaces are hard wearing with toughened laminated glass, providing not only a stylish place to change but practical and meet our high standards of cleanliness.
The NEW Changing rooms now benefit from private shower cubicles with power showers, a truly invigorating power shower experience. Plenty for everyone to enjoy.
NEW Vanity Areas, both male and female changing rooms have a special vanity space with gorgeous solid blue pearl granite surfaces & hairdryers. They are a welcome new addition to the Leisure Club, a little space to get back together after the pool!
NEW Air Conditioning, it's a simple but important luxury that we had to include in the Leisure Club transformation!
NEW decoration throughout, not one wall or surface hasn't been replaced or redecorated, it's a sparkling gem just waiting to welcome you!
Eco Credentials just got better too – with a serious bit of Pool plant equipment a new Heatstar unit all the way from the specialist British manufactures on the Isle of Wight! This brand new plant equipment has a serious job to do as it provides heat recovery and humidity control system designed exclusively for swimming pools. Heatstar have pioneered highly energy efficient, climate control systems and are a flag-bearer for energy-efficiency with the Heatstar units playing a huge part in making swimming pools role models for energy savings and reduced carbon emissions.
Update on the Recent Room Refurbishment
It's hard to keep up with all the new projects at the Palace and we wanted to let you know that the extensive refurbishment of 40 rooms has been successfully completed. These gorgeous new spaces are ready for you to come and stay. The rooms have a new colour palette complete with sophisticated modern fabrics that work beautifully with the period features of the rooms, including bespoke luxury velvet curtains and complimentary voiles. Gorgeous deep pelmets have been added with chrome studding detail to ensure guests can enjoy both the stunning light, views and a restful nights sleep.
Lots of little touches have been added to the design scheme by Corrinne Muir Interiors, sumptuous padded bed throws, statement bed heads, comfortable relaxing chairs and lots of complimentary cushions to create a refined sophisticated space to relax and unwind. Fabulous Art work, custom original pieces were provided by Tambo Design, including lovely silver frames and soft silver colours. The soft luxury fabrics, patterned and plain velvets to super soft quilted fabrics and even dramatic shaped Wemyss Azibo bedheads are in keeping with the classical period of the hotel.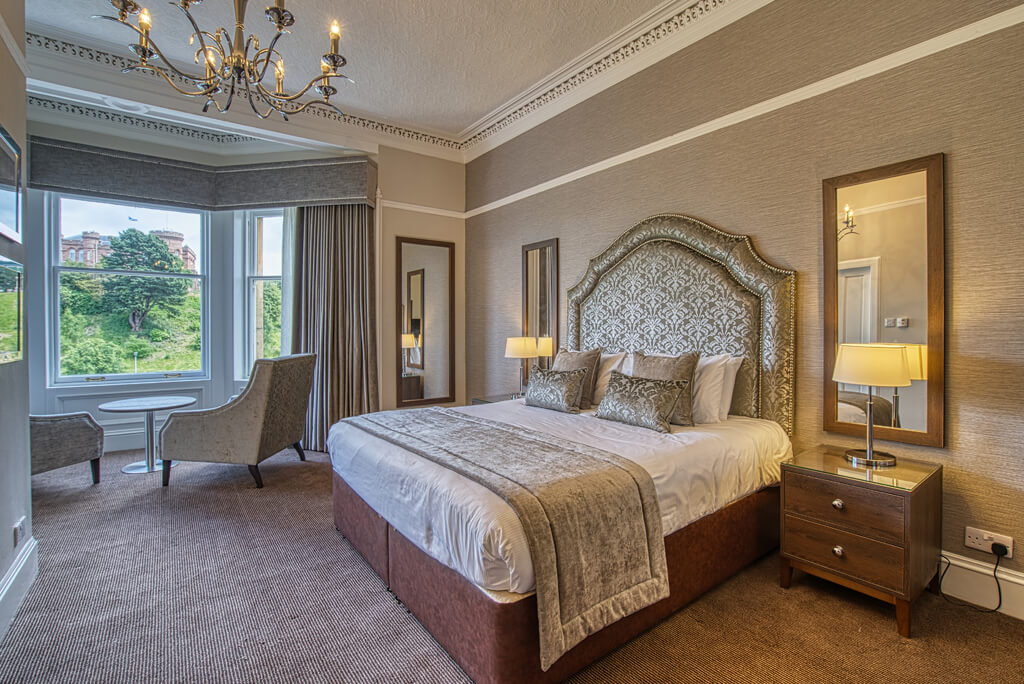 Stay With Us
We've been investing in the fabric of this lovely hotel for more than 40 years so you, your family and friends can enjoy a special experience when you relax and unwind here at the Inverness Palace. Whether you are visiting soon or planning a short break escape a stylish welcome awaits you. As a family run hotel we always want to keep that warm comfortable feeling but we hope you like the little touches of luxury.
Come & stay soon! Experience the stunning newly refurbished leisure club with Swimming pool & Spa. Don't forget you will enjoy car parking, free Wi-fi. See Spa Escapes, you can enjoy a fabulous new room and Spa! You can book online, email us or call our lovely team on 01463 22 32 43, Remember Book Direct for your very best offers.  Here's to your #highlandstaycation. 
Please see Stay with Confidence and Dine with Confidence we want to reassure you of our commitment to you during your stay.